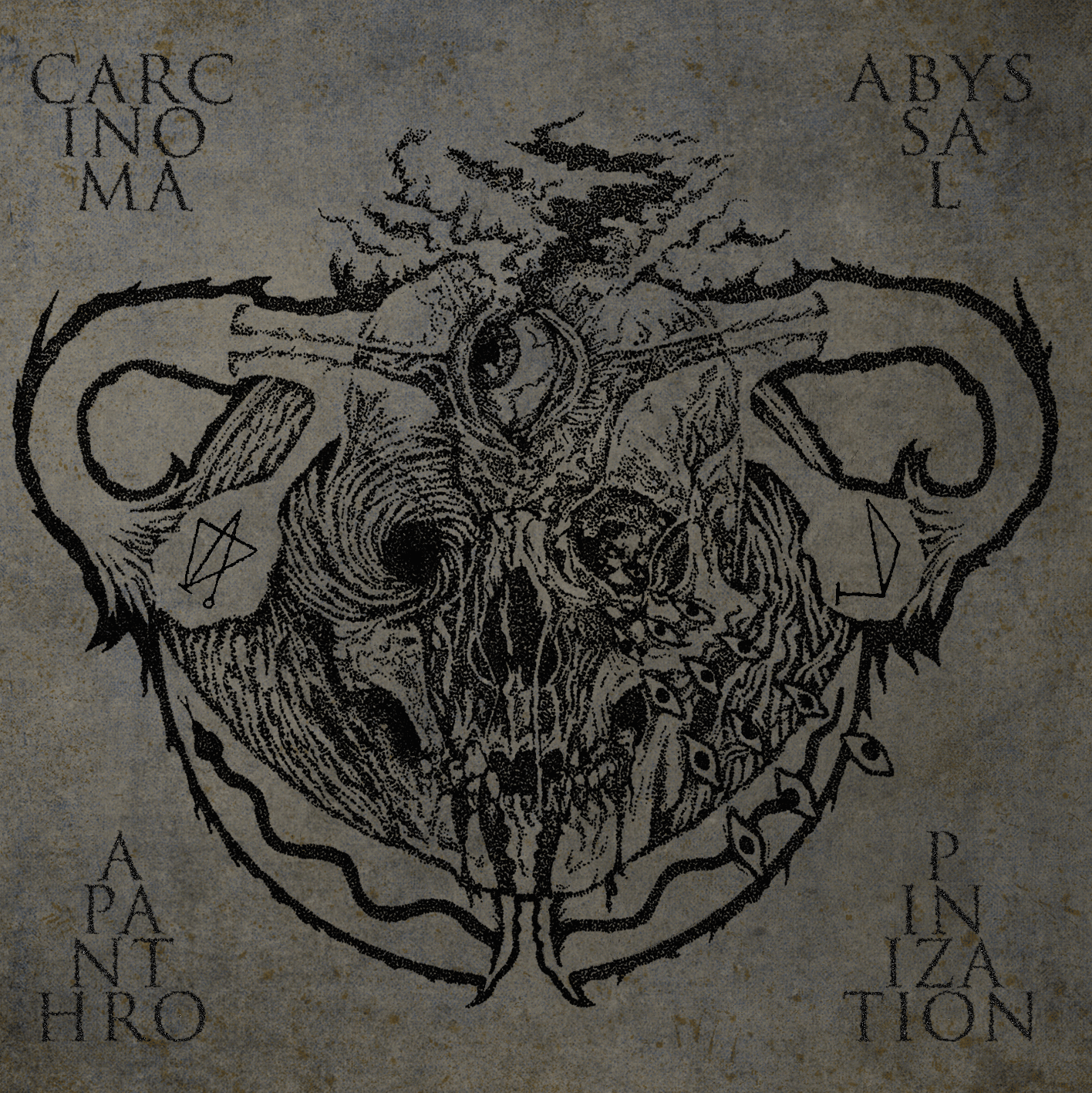 It's with great honour that we can finally announce our next Goatprayer Records release, marking our 20th release thus far, this is something truly special:
Carcinoma (UK) | Abyssal (UK) – 'Apanthropinization'
Two of the UK's most atmospherically enriched Black/Death bands together on one Split Album with each band delivering 4 new passages of utterly chaotic descent expanded over 38 Minutes.
'Apanthropinization' gives the truest introduction yet to Carcinoma. This 3 piece have taken their time to refine & delve further into the chaotic psyche of man's own created abyss since their S/T and self-released Demo came out in 2015. Now fully ready to unleash their perfectly crafted aural assault of horrifically drenched Blackened Death it is evidently clear that Carcinoma have taken the best stance towards creating an atmosphere like no other.
The second half of 'Apanthropinization' features the long awaited & highly anticipated follow-up to Abyssal's 'Antikatastaseis' ( Profound Lore Records/ Iron Bonehead Productions). With its timely arrival finally upon us Abyssal have carved a climactic descent into absolute pandemonium. Needing little, to no introduction, Abyssal have taken 'Apanthropinization' and elevated it further down a darker path of questioning before leaving the record in an absolute transcending maze of chaos.

In support of the release there will be Two Exclusive Abyssal rituals to coincide with the release:
Oration Mmxviii:
March 7th – 10th in Reykjavik, Iceland
North of the Wall Festival 2018 – www.northofthewallfestival.com:
April 27th – 28th in Glasgow Scotland.
There will be exclusively advanced copies of 'Apanthropinization' available at ORATION MMXVIII in Iceland. For those who are lucky to be in attendance of this highly revered festival.
Furthermore, Carcinoma will also take stage alongside PRIMITIVE MAN (US – Relapse Records) & Bismuth (UK – Dry Cough Records) May 5th in Plymouth, UK.